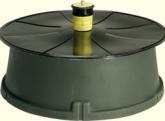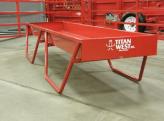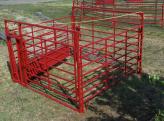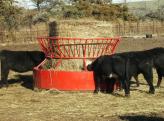 Whether you run cattle on large open ranges or in smaller parcels of rented ground without decent facilities then the O.K. Corral by Titan West is just what you need.  The O.K. Corral is a self contained portable corral system that can be set up in less than 10 mintues by one person.  When folded up in transport mode, the system pulls just like a gooseneck trailer and rides nicely at normal highway speeds.  Features 7-Bar (69") tall panels constructed of 1 1/2" 14 Gauge square tubing.  The 24' O.K. Corral & O.K. Corral Sr. come with the 8' Front Storage Compartment.  Bi-Folding rear gates allow many options after round-up including loading a trailer and feeding into a portable tub or working chute.

The center sort alley accommodates driving through with most full-sized pickups to coax animals into the corral from behind.

The most versatile, portable corral system on the market, the O.K. Corral is a single unit that eliminates the need for transporting and setting up individual panels.

A gooseneck hitch allows for maneuverability and easy transport at posted high-way speeds.

A durable, 12-inch I-beam frame and unique pivot hinges make the corral suitable for


  use on a variety of terrain, not just for level grades.
A unique front compartment, lined with Galvanneal sheeting, may be used to haul an ATV, livestock, or supplies.

When folded, the corral compares in size and weight to a 24 or 20 ft. stock trailer.

Three Sizes available:

24' O.K. Corral Sr.



24' O.K. Corral




20' Jr. O.K. Corral
- (4)24' (4)23' & (4)18' Panels

  - (4)24' & (4)18' Panels


   - (4)18' & (4)16' Panels
- Holds 160 Cows, 100 Pairs &      - Holds 80 Cows, 50 Pairs &

  - Holds 50 Cows, 35 Pairs &
     200 Yearlings




100 Yearlings




  65 Yearlings
- (2) 1700 Sq. Ft. Pens


  - (2) 850 Sq. Ft. Pens


   - (2) 530 Sq. Ft. Pens
Click on the Thumbnails below to view more photos on the O.K. Corrals